A production line system capable of measuring rub & buzz noise.
Widely applicable from compact to large Hi-Fi speakers.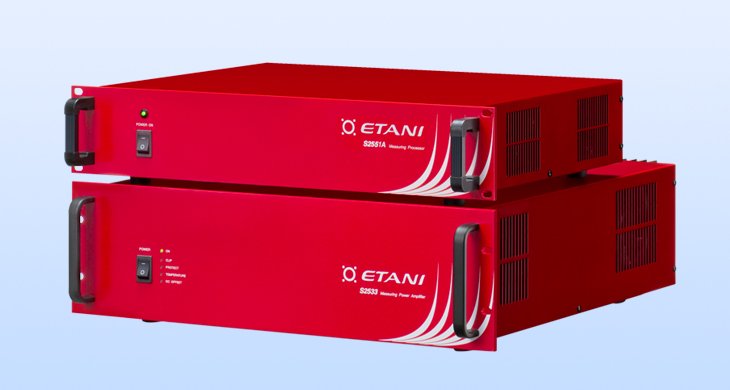 ETANI's 4th generation system is designed to be cost-effective by employing advanced digital signal processing merged with hardware and software, as well as PC ability. Highly accurate and stable analyses are performed approximately in real-time
S-255 FEATURES
Easy to operate.
Enables you to perform a wide range of measurements repeatedly at high speed with high accuracy, and distinguish good and defective samples on time.
Visualizes test data, which can be used as analysis data for quality control by statistical processing.
S-255 MEASUREMENT CAPABILITY
The S-255 Loudspeaker Test System is an instrument for the production lines that can also measure rub & buzz noise. The system automatically tests all characteristics that are required of speakers. It can handle a variety of purposes, from compact speakers of mobile phones to large Hi-Fi types.
Sensitivity (S0)
Impedance (Z0)
Lowest resonance frequency (f0)
Polarity (P0)
Sound pressure frequency response
Total harmonic distortion (THD), 2nd and 3rd harmonic distortions
Rub and buzz characteristics
Impedance characteristics
Phase characteristics
Isolation test (option)
Isolation test between voice coil and frame while driving speaker
If voltages are the same, tests all items in 1 sweep, and if voltages are different, sweep and measure at each voltage.
S-255 SYSTEM
BASIC SYSTEM DIAGRAM
The measurement unit has one enclosure for the 20W model, and two enclosures for the 50W and 100W models; the measurement unit and the power amplifier. The entire system is composed of the PC, microphone, anechoic chamber and jig, etc. Software is installed on your PC.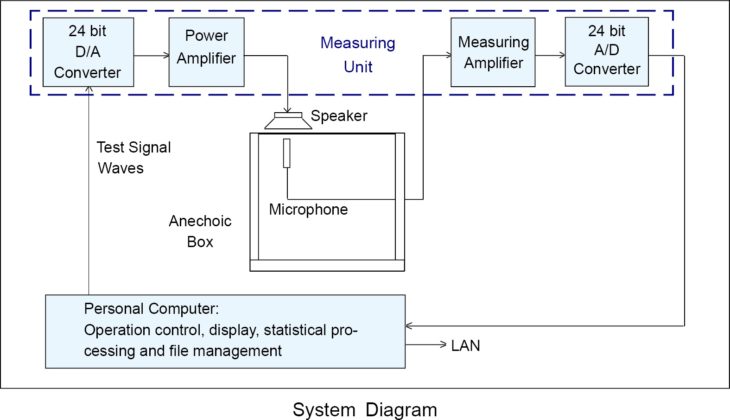 OTHER FUNCTIONS
Test Data Application
Statistical processing of all test data in real-time online. Outputs average, standard deviation, CP, CPK, histogram, Pareto chart, etc. Create a database for quality control.
FFT analyzer / RTA
High-precision FFT analyzer (frequency, level, time and 3D analysis).
Realtime Spectrum Analyzer.
Support for 3 Types
Option for testing speakers, sounders and vibrators by one system.
BASIC HARDWARE COMPOSITION
S-255 Measurement Unit
Standard Model: S2551A
50W Power Amplifier Built-in One Body Model: S2552B
Power Amplifier
High Power (100W) Separate Type Amplifier Model: S2533
Accessories
Remote Control (with display)
Isolation Test Unit (with software): S2507A
HDD Backup Kit (with software)
Microphones Various Types
Artificial Ear with Built-in 1/2″ Microphone: A-1508
Anechoic Box (for testing speakers)
Small size (aprox. 43 L): A-1602
Medium size (aprox. 140 L): A-1601
Uninterruptible Power Supply 100 ~ 120 V 600 VA / 1kVA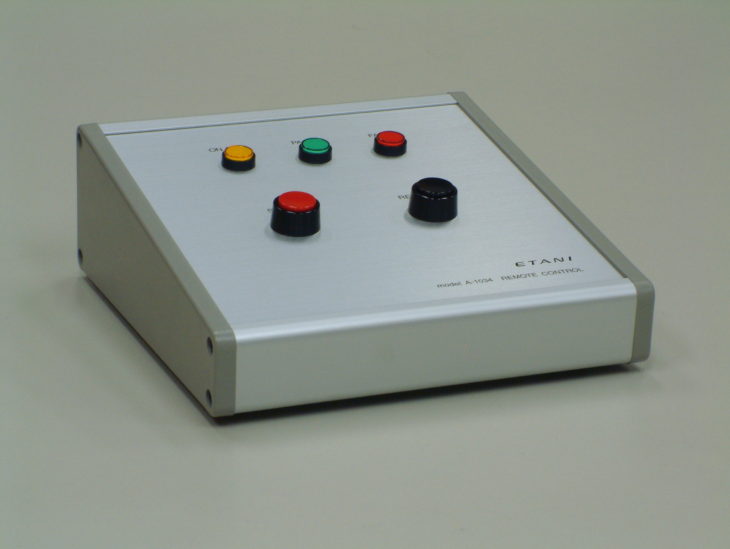 S-255 JUDGMENT WINDOW EXAMPLE