High-resolution audio compatible system, measuring broadband data with high dynamic range from different aspects. Diversely facilitates your design and development operations.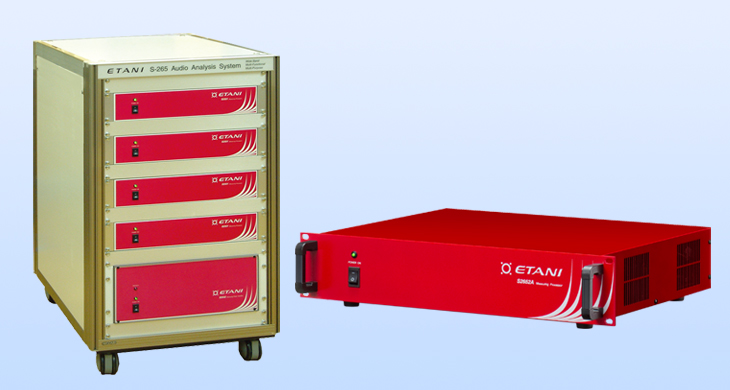 S-265 FEATURES
• High-precision signal processing of 220kHz/24bit, has achieved a test environment with broadband, high-dynamic range.
• The basic measurement menu and optional software is comprehensive and responds to various design requirements on the site.
• 5 types of frequency characteristics (option: up to 9 types) and 3 types of data can be measured at the same time, making the experiment time more effective.
S-265 MEASUREMENT CAPABILITY
The S-265 Acoustic Analysis System has been designed to achieve the best performance and functionality, as a measurement system for standard speakers and microphones.
Sound pressure frequency characteristics
Total harmonic distortion (THD), 2nd and 3rd harmonic distortions
Impedance characteristics
Phase characteristics
Sensitivity (S0)
Impedance (Z0)
Lowest resonance frequency (f0)
In one test, 5 types of frequency response (option: 9) & 3 data can be measured simultaneously.
S-265 SYSTEM
BASIC SYSTEM DIAGRAM
The measurement unit has one enclosure for the 20W model, and two enclosures for the 50W and 100W models; the measurement unit and the power amplifier. The entire system is composed of the test environment such as PC, microphone, and anechoic chamber, etc. Software is installed on your PC.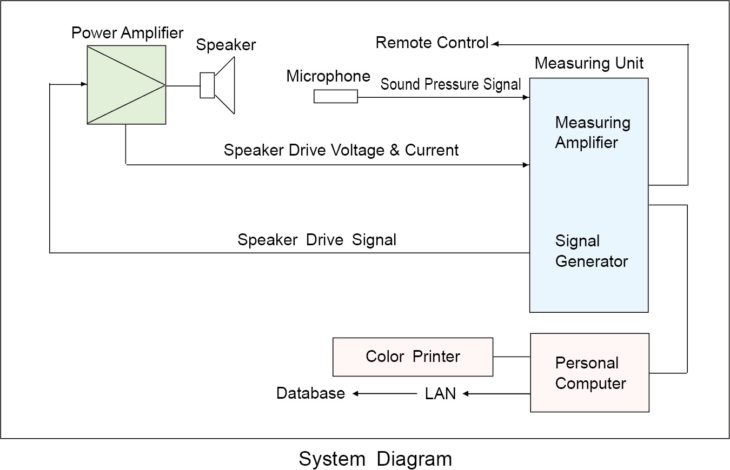 OTHER FUNCTIONS (OPTIONS)
SPEAKER MEASUREMENT SOFTWARE
Sweep frequency response
Spot sweep measurement (step-by-step method)
High impedance measurement
THD measurement (up to 50th)
THD spot frequency response
Octave band noise measurement
Impulse response characteristics & analysis (with FFT)
Tone burst measurement
Power linearity measurement (included in sweep test)
Short-time power linearity measurement
IMC frequency response
IMC spot frequency response
Cumulative 2π directional characteristics
H-2 measurement
CW-IMC measurement
Combination measurement: f0π format
Statistical calculation processing
Automatic database recording
Automatic creation of reports (under plan)
Server data viewer
DKF output
ASCII data output
Automatic measurement, test and judgment functions
Graph printing
MICROPHONE MEASUREMENT SOFTWARE
Sweep frequency response (0º, 90º and 180º)
Proximity frequency response
Self-noise measurement
Noise characteristics (for intrinsic noise, induction noise and wind noise)
Microphone measurement data processing
Integrated /automatic sequential measurement
Directive pattern measurement (with turntable control)
S-265 MEASUREMENT WINDOW EXAMPLE