ASA mini Series RTA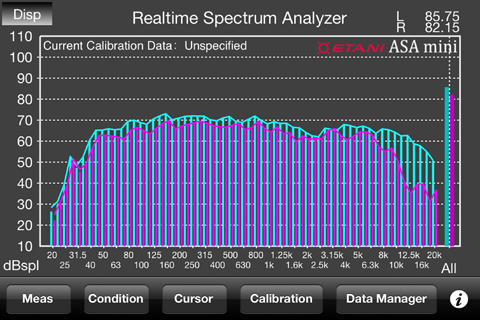 For iPhone / iPod touch
ASA mini Series
Etani RTA / Etani RTA Pro
Announcement about Stopping Distribution
We regret to announce that our iPhone / iPod touch applications will be stopped distributing as of 28 February, 2019.
For customers who have already downloaded or purchased the apps, you can continue to use them, however, they are no longer supported to the latest devices and OS.
Please note that after the distribution ends, you will no longer be able to download the apps again from the App Store.
We apologize for any inconvenience caused and deeply appreciate your understanding.

End of Distribution: 28 February, 2019
Applications to End Distribution
・ETANI RTA
・ETANI RTA Pro
・ETANI POLARITY


Product Overview
Features
Measure sound anytime, anywhere! The ultimate version for iPhone/iPod touch. ASA series measurement and analyzing techniques have been condensed and incorporated into this tool.
Functions
■ High Resolution RTA (Realtime Spectrum Analyzer)
1/1, 1/3 and 1/6 octave bands are selectable. In audio analysis, a resolution of 1/3 octave is the norm but this application enables you to perform more detailed analysis.
■ Useful for Improving Sound of Car Audio
By playing the pink noise on your CD player, you can easily measure the actual frequency responses on the actual site. Equalizers can be easily tuned by pink noise measurements. The tool assists you in determining the setup position of car audio and adjusts your surround system.
■ Max/min hold functions and response speed are user-selectable
■ A-curve can be used (paid version only)
■ Ducal-Channel View
Allows you to see the differences in channels. Useful for comparative observation.
■ Realtime Ability: Helpful in observing standing wave, SPL distribution and noise source
■ Allows you to analyze the frequency of voice signal from a microphone input
■ Microphone Characteristic Adjustment
Enables you to automatically adjust the microphone characteristics based on your calibration data. The microphone with calibration data is an option. If you have a reliable data, you could create a calibration data file yourself.
Paid Version vs. Free Version
■ The differences between the paid version and the free version are illustrated below.In the paid version, you can save data and use an A-curve filter.