Audio Sound Analyzer ASA-10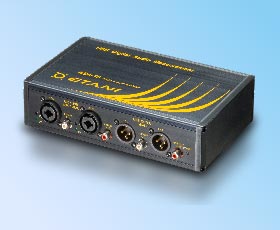 For Your Sound Exploration, Compact with High Precision Performance
Audio Sound Analyzer
ASA-10 — SOLD OUT —
This compact and lightweight analyzer uses USB connection to link to your computer and can operate directly from a USB bus power. It allows you to easily measure the sound field characteristics at various sites.

On the basis of our established history and trust gained from our customers in making professional test equipments, an affordable yet fully equipped test system has been achieved. We assure you that the tool will become useful in designing your sound.
Product Overview
Features
2-channel, compact body with USB connection
Operates from power of USB bus
Measures sound anywhere and at any time to enhance your sound
Provides highly precise absolute values with the help of hardware and software combination
Professional version with minimal range error is also available
Extensive input/output terminals
Digital audio (coaxial/optical)
Functions
Measurement

Sweep Measurement
Enables you to measure precisely using sinusoidal sweep
Enables you to analyze distortion. Harmonic distortion can be analyzed up to 10th order
Impedance curve can be measured using Impedance Adapter (option)
RTA (Realtime Spectrum Analyzer)
1/3, 1/6 and 1/12 octave bands selectable
In audio analysis, a resolution of 1/3 octave is the norm but allows more detailed analysis
Impulse Response / Acoustic Distance Measurement
Acoustic distance can be measured for time alignment
Impulse response measurement
Graph Printing Function
Various frequency characteristics can be printed together (Sweep / RTA)

Applications

Loudspeaker characteristic measurement
Audio tuning of surround-sound systems
Car audio installation and tuning
Characteristic evaluation in listening room, etc.
Records data of sound devices

Specifications

Measuring frequency range: 20Hz to 20kHz
Measuring channel: 2 channels
Computer requirements: Windows XP/Vista based computers
Connection: USB 1.1 and 2.0 bus power supply
Analog input/output: Balanced circuit, unbalanced circuit and monitor output
Digital input/output: Coaxial (RCA pin jack) and optical (TosLink)
Phantom power supply: Power supply for microphones (3V/24V)
Microphone correction: Automatic calibration possible using microphone data (sensitivity & frequency characteristics)
Microphones with correction data (option)
Data storage: Text data and wave data storable

Options
Software

FFT Analysis Software
Frequency analysis and transient response analysis
Sonar Graph Software
3-D frequency spectrum display in color
Reverberant Parameter
Reverberant time (RT-60), D, C, R, EDT and others
MTF/STI Software
Sound clarity
IACC Software
Sound diffusion and orientation by binaural correlation
RCC Software
Evaluation of spread of sound and interaural cross correlation
Hardware

A1501 High-Precision 1/2 inch Measurement Microphone
A1068 Microphone Power Supply (2ch) with AC adapter for A1501
A1075 Car Cigar Lighter Socket Cable for A1068
A1066 High-Precision 1/2 inch Electret Measurement Microphone
A1069 1/2 inch Electret Measurement Microphone
A1070 Microphone Power Supply (2ch) for A1069
A1035 1/2 inch Microphone Holder (for 1 microphone)
A1021 1/2 inch Microphone Holder (for 2 channels)
A1067 Stereo Miniature Microphone (2ch)
ECM-8000 Rod-Shaped Microphone
A1513 Microphone Cable for ECM-8000
ST2 Stereo Arm for ECM-8000 (for 2 channels)
A1514 Adapter for ECM-8000 Screw to Tripod Camera Screw
500G-7 Compact Elevator Tripod for microphone
U9800 Medium-Sized Elevator Tripod for microphone
A1071 Impedance Adapter (for measuring impedance)
A1072 Connection Cable for Impedance Adapter
A1073 Speaker Cable for Impedance Adapter
A1074 Speaker Voltage Measuring Cable
A1077 Audio Test CD (self-producible)
ASA-10 Suitcase – Under plan: Please inquire.
A1501

High-Precision 1/2 inch
Measurement Microphone

A1068

Microphone Power Supply (2ch)
with AC adapter for A1501

A1066

High-Precision 1/2 inch
Electret Measurement Microphone

A1069

1/2 inch Electret Measurement
Microphone

A1070

Microphone Power Supply (2ch)
for A1069

A1035

1/2 inch Microphone Holder
(for 1 microphone)

A1021

1/2 inch Microphone Holder
(for 2 channels)

A1067

Stereo Miniature Microphone (2ch)



ECM-8000

Rod-Shaped Microphone

A1513

Microphone Cable for ECM-8000
for rod-shaped microphone

ST2

Stereo Arm for ECM-8000
(for 2 channels)

A1514

Adapter for ECM-8000 Screw
to Tripod Camera Screw

A1071

Impedance Adapter
(for measuring impedance)

A1072

Connection Cable
for Impedance Adapter

A1073

Speaker Cable
for Impedance Adapter

A1074

Speaker Voltage Measuring Cable