Audio Generator ES-1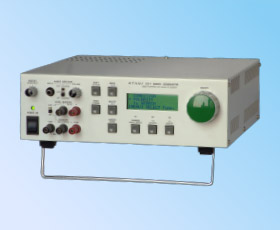 A New Style of Oscillator for Testing Loudspeakers
Audio Generator
ES-1 — SOLD OUT —
When ETANI makes the most of digital technology and makes a generator, this is how it turns out.
High performance, reliability and functionality – A totally new signal generator for testing loudspeakers.
Product Overview
Features
This signal generator utilizes an advanced digital signal processing LSI and a microcomputer technology. It is totally different from the former analog sweep generator and ensures superior reliability, performance and functionality.
A new signal generator for loudspeaker testing, featuring rich options that suite various purposes.

Options
OP#1:
Automatic tests of polarity, impedance and lowest resonance frequency (fo) with measuring microphone for polarity test
OP#2:
Maximum input test and continuous load test
OP#3:
PC software
1) Test property: Inputting, editing and backing up
2) Load measurement data to spreadsheet programs, etc.
OP#4:
External control interface (custom made)