Audio Analysis System  S-265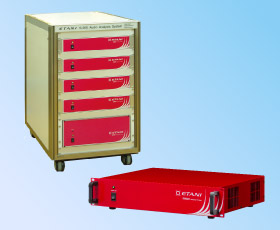 For Precision R&D and Evaluation
Audio Analysis System
S-265
The world's top performance
<24bit / 220k sampling frequency>
Powerfully supports your evaluation of sound quality
Product Overview
Features
The S-265 Audio Analysis System has been developed to achieve the best performance and capability as a standard system for measuring loudspeakers and microphones.
Functions
ETANI has thorough understanding of users' practises and demands and has incorporated exclusive ideas and new features. Our vision goes beyond a simple manufacturer of measuring system. We propose an audio measurement that asserts the ideal tool for the future.
The S-265 continues to evolve to achieve the best system for measurement.

Options
■Loudspeaker Measurement Software
Sweep frequency response
Spot sweep (step-by-step sweep measuring method)
High impedance measuremen
Fire security regulatory standard (SPL using pink noise and sound warning sensitivity) measuring software and hardware
THD measurement (up to 50th order can be analyzed)
THD spot frequency response
Octave band noise measurement
Impulse Response Measurement (with FFT)
Power Linearity Measurement (combined to the sweep measurement)
Power Linearity Measurement (spot frequency / THD / IM)
IMD (Intermodulation distortion) measurement: SMPTE
IMD frequency response
IMD spot frequency response
Hi-2 Measurement

CW-IMD Measurement
Automatic Combination Measurement
Statistical Processing
Tone Burst Measurement
Data Base Automatic Record
Automatic Report Creation (under plan)
Data Server Viewer
DXF Data Exchange
ASCII Data Output
Cumulative 2π directional characteristics
Automatic Measurement / Test / Verification Functions
Graph Printing Functions
■Microphone Measurement Software
Directivity pattern measurement (with turntable control)
Polar Pattern Measurement (without turntable)
Short term power linearity measurement
■Accessories
UPS
50W/100W extra power amplifier
Artificial Ear with standard microphone
Artificial Mouth with standard microphone
Pistonphone
Digital Multimeter
Standard Resister
Turntable