TS Parameter Analyzer  S-280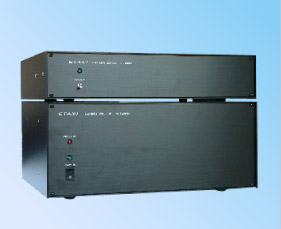 For precision evaluation of vibration parts of loudspeaker
TS Parameter Analyzer
S-280
Thiele-Small parameters are measured with just a bare loudspeaker.
Product Overview
Features
The Thiele Small (T/S) parameters are derived by measuring the displacement of the cone paper of a loudspeaker under test, using a laser displacement sensor. There is no need for added mass or mounting in a sealed box to add stiffness for measurement. A single loudspeaker is all that you need for obtaining the T/S parameters.
The multiple measurements are remarkable in its ease and speed of operation.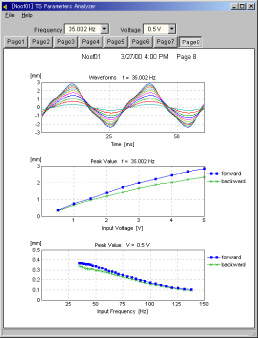 Easy software can be operated by anybody. Once you set up to 10 different conditions (voltage/displacement), the system automatically carries out a preliminary measurement to reduce the measuring time followed by a main measurement and the results are promptly displayed.
All in complete system that can be operated as soon as it is set up. Power amplifier 100W / 1ohm with DC amplifier
A well-built speaker mounting jig.
Sine wave measurement ensures high S/N ratio and even low voltage can be measured.
T/S parameters can be easily measured even while applying a displacement.
Hysteresis can be easily measured under a stationary state
(using three cycles).
Distortion of moving components can be analyzed.