Superior portable package that operates on USB bus power, allowing you to measure anytime, anywhere by an easy quick setting.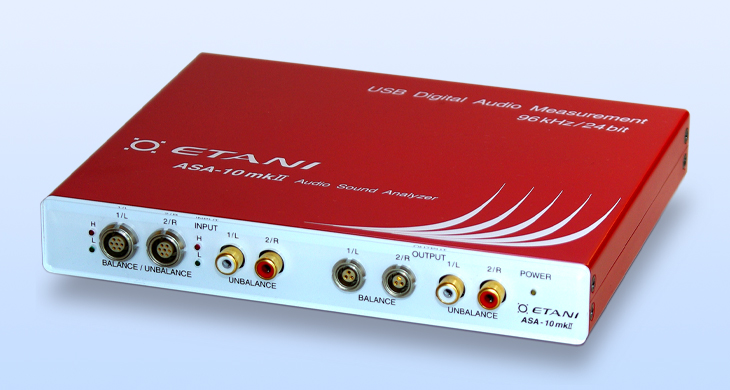 One complete system that enables you to grasp spatial acoustic characteristics and a variety of characteristics. A compact yet full-fledged measurement instrument that meets your professional needs.
ASA-10mkII FEATURES
Compact, lightweight design that operates on USB power from your PC, achieving excellent portability.
Serves to facilitate your data collection in various scenes by spatial acoustic measurements of 2ch input.
Enhanced scalability, equipped with a full range of useful input/output connectors, including balanced lines and digital audio.
ASA-10mkII MEASUREMENT CAPABILITY & FUNCTIONS
The ASA-10mkII is a small, lightweight measuring instrument, equipped with high-performance, enabling you to easily perform precision measurement of reproduced sound field characteristics in various situations.
1.Sinusoidal Sweep Measurement
  For performance tests of sound pressure frequency response, 2nd & 3rd harmonic distortion characteristics, and impedance characteristics, etc.
2.Real-time Spectrum Analyzer
  Supports spatial acoustic measurements with 2ch simultaneous display, and switches between microphone and line input.
3.Impulse Response, Response Delay and Waveform Recording
  You can use for response characteristics using TSP signals (and two others), and polarity judgment by enlarging the wave view.
4.Measurement Data Graph Output
  Outputs multiple curves in layered view on an A4-sized page.
ASA-10mkII SYSTEM
BASIC SYSTEM DIAGRAM
You can easily set up anywhere by connecting the instrument to the USB port of your PC. To measure speaker impedance, connect our special impedance adapter (option).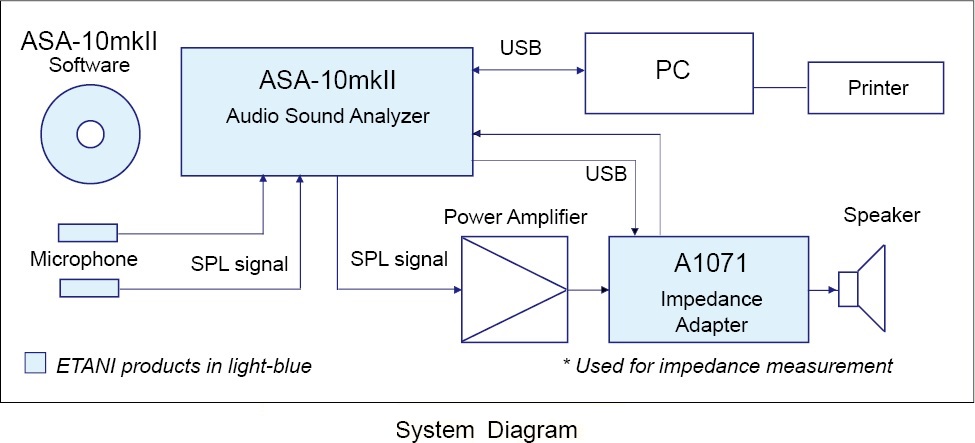 OTHER FUNCTIONS (OPTIONS)
FFT Software: Frequency analysis and transient response analysis
Sonar Graph Software: Shows 3-D frequency spectrum, including time in color
Reverberate Parameter: Reverberate time (RT-60), D, C, R, EDT and others
MTS / STI Software: Calculation of sound clarity
IACC Software: Sound diffusion and localization by binaural correlation
RCC Software: Evaluation of spread of sound and interaural cross correlation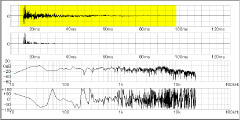 OPTIONAL HARDWARE
A1501 High-Precision 1/2″ Measurement Microphone
A1068 Power Supply (2ch) for Hi-Precision 1/2″ Microphone with AC Adapter
A1075 Car Cigarette Lighter Cable for A1068
A1066a High-Precision 1/2″ Electret Measurement Microphone
A1069a 1/2″ Electret Measurement Microphone
A1086a 1/4″ Electret Measurement Microphone
A1035 1/2″ Microphone Holder (for 1ch)
A1021 1/2″ Microphone Holder (for 2ch)
A1096 1/4″ Microphone Holder (for 1ch)
A1089 1/4″ Microphone Holder (for 2ch)
500G-7 Compact Elevator Tripod for microphone
U9800 Medium-Sized Elevator Tripod for microphone
A1071 Impedance Adapter (for measuring impedance)
A1072 Connection Cable for Impedance Adapter
A1073 Speaker Cable for Impedance Adapter
A1077 Audio Test CD (self-producible)
Suitcase for ASA-10mkⅡ (under plan) Please inquire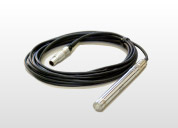 ASA-10mkII MEASUREMENT WINDOW EXAMPLE